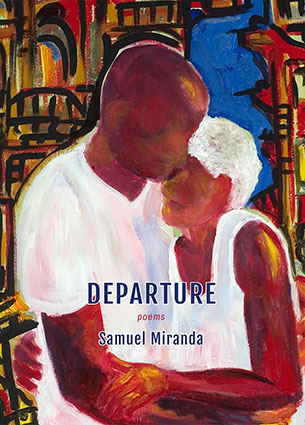 Cover art: "Abrazo en la Calle Neptuno" by Samuel Miranda & Lazaro Batista
Cover design: Enzo Silon Surin
Departure
$11.00
5 x 7 | 42 pages | Poetry
ISBN 978-1-941604-06-9

Publication Date: October 2017
In Departure, Samuel Miranda depicts a world in which history is bought and sold with an aversion of the truth. In his exquisite debut collection, Miranda journeys through the effects of displacement and forced migration on one's ability to be at home in one's skin and language. At the heart of every poem is a labyrinth, a resounding set of questions about entrances and exits for which, as Jorge Luis Borges writes, "there'll never be a door." When Miranda writes "In time empty rooms became an empty house/that did not mourn absence/but crumbled under the weight of vacancy" the breadth and depth of Departure is unequivocal. This book is a must have and every poem a must read.
Don't forget to BOGO: Buy One for yourself and Grab One for a friend :)

about the author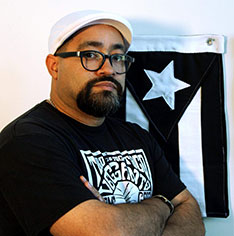 SAMUEL MIRANDA | photo credit: Mignonette Dooley
Samuel Miranda grew up in the South Bronx and has made his home in Washington, DC. He is a visual artist, poet and teacher who uses his craft to highlight the value of everyday people and places.  His work has been heavily influenced by Puerto Rican culture and family history, as well as his interactions with the people in his city, his students, and people he encounters in his travels.
PRAISES FOR DEPARTURE
"In Departure Sami/Samuel Miranda documents the distances between beloveds, places, the living and the dead, while insisting that kinship is perpetual. The result is a constellatory collection of elegiac poems that gleam with loss and ardor. Breathtakingly imagistic and exact, lines like these follow me through my hours and rooms: 'They remind you of owls, the crying children...' and 'A thousand heads have sprouted... / scent of white flowers around her neck.' Yes, these are poems, but they are also paintings, despedidas, histories, ceremonies." -Aracelis Girmay, Author of THE BLACK MARIA
"It's all here: Elegies and ekphrasis, free verse and form, espiritu and bugaloo too! Sami Miranda is an artist of the highest order. This latest offering from one of DC's most beloved and respected multidisciplinary creators, Departure will let new readers in on something the rest of us have known for decades: Sami Miranda is the real deal. He's back, "telling the stories of the stars." Listen. " -John Murillo, Author of Up Jump the Boogie